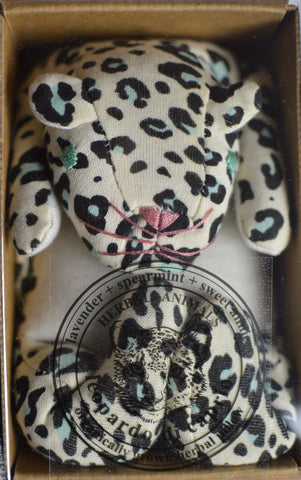 leopardo di caprio 12" eyepillow
the hunter.
Leopardo Di Caprio is named after the beautifully camouflaged, secretive and endangered snow leopard (less than 6,000 in the wild) native to the mountain ranges of Central and South Asia.
Leo is filled with lavender, spearmint + sweet annie. Lavender, originally a Mediterranean shrub cultivated for its aromatic flowers is one of the queens of herbs. It relieves nervous tension, headaches and insomnia. Spearmint, a cousin to peppermint, is used for indigestion and nervousness. Sweet Annie hits all the right notes with a slighty sweet scent. 
A portion of the proceeds of the sale of this product will be donated to The World Wildlife Fund, whose snow leopard program focuses on reducing human-leopard conflict and rural development, education for sustainable development, stopping mining in fragile snow leopard habitat, and the control of the illegal wildlife trade.
 
dimensions: 12 inches long x 3 inches wide. weight: 10 ounces.
*please allow a few days pre-shipping to prep your order!