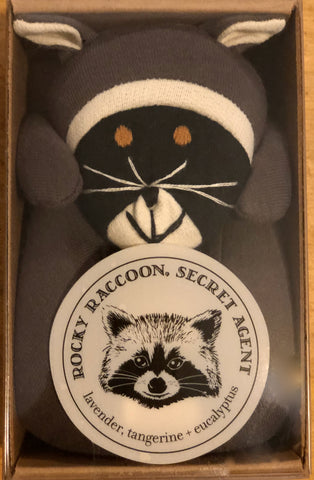 rocky raccoon
secret agent.
rocky may get into a little mischief every now and then, but that's because he's so darn intelligent, curious and resourceful.

Just like his personality, Rocky is made of a complex blend of herbs. Lavender, originally a Mediterranean shrub cultivated for its aromatic flowers is one of the queens of herbs. It relieves nervous tension, headaches and insomnia.                                                   
Tangerine
 oil is rich in the powerful antioxidant d-limonene which contributes to its spirit-lifting scent. Tangerine oil is soothing, relaxing and calming.
Originally native to Australia, eucalyptus trees are now grown all over the world and used for their medicinal properties. 
Eucalyptus oil has long been used to
 relieve coughing, freshen breath and help us breathe easy.
dimensions: 12 inches long x 3 inches wide. weight: 10 ounces.
*please allow a few days pre-shipping to prep your order!